Meet Our Drain Specialists
Bouldenize your slow and clogged drains in Newark, DE.
The Boulden Brothers team of skilled professionals tackle frustrating clogged drains quickly and affordably. With our expertise in drain clearing, our Plumbers can diagnose any drain issue, whether it's slow drainage or overflowing sinks and toilets.
The cause of most common blockages is hair, dirt, food particles, or even tree roots – no matter the cause, The Boulden Bros got you covered! Put an end to those pesky plumbing woes with help from the experts at Boulder Brothers Drain Clearing Services today.
What are the most common causes of a clogged drain?
Food waste – Don't let your kitchen sink become clogged with food, grease, oil, and even soap! Use a strainer when washing dishes to prevent any unwanted buildup. Get rid of cooking oils and other chemicals in the trash – not down the drain. If you still experience issues despite these precautions, get Boulden Brothers on board for an effective repair service.
Hair buildup – Don't let your hair take a trip down the drain! While keeping every stray strand out of the shower may be challenging, using a suitable drain guard can help trap a few hairs before they make their way into pipes. By catching them early on, you'll save yourself some costly plumbing woes later – clogged drains from stuck-on soap sediment and dirt are no fun for anyone!
Dirt & Grime – Avoid letting dirt or grime settle in your pipes and drains! Give clothing a good shake-off before throwing it into the wash, as well as spraying down sand or dirt on the skin outside the shower. Always clean drain stoppers to keep them functioning correctly – if you suspect an issue with your plumbing, contact Boulden Brothers, who will provide expert repairs and advice around preventative measures.
Tree Roots – Unwanted root growth can cause significant damage to your pipes and significantly impede water flow. An experienced professional should assess the issue before any repair begins, as it could require considerable pressure cleaning or excavation of the area.
What are the signs of a clogged drain system?
Keep your plumbing healthy – trust the expert drain cleaners at Boulden Brothers Plumbing in Newark, DE. We'll use safe and effective methods to clear clogs while protecting your pipes from unnecessary damage. Make sure you schedule regular maintenance for optimal results!
Schedule Drain clearing if you notice the following:
Gurgling noises
Bad odors
Slow drainage
Wastewater backing up
No one likes the hassle of clogged drains. But don't worry – the Boulden Brothers are here to help! Our team of expert drain cleaners can diagnose and clear even your toughest blockages caused by hair, dirt, food, and tree roots. So join hundreds of happy customers who have already benefitted from our top-notch service regarding their plumbing problems. Reach out today for all your draining needs!
Why choose Boulden Brothers for drain clearing?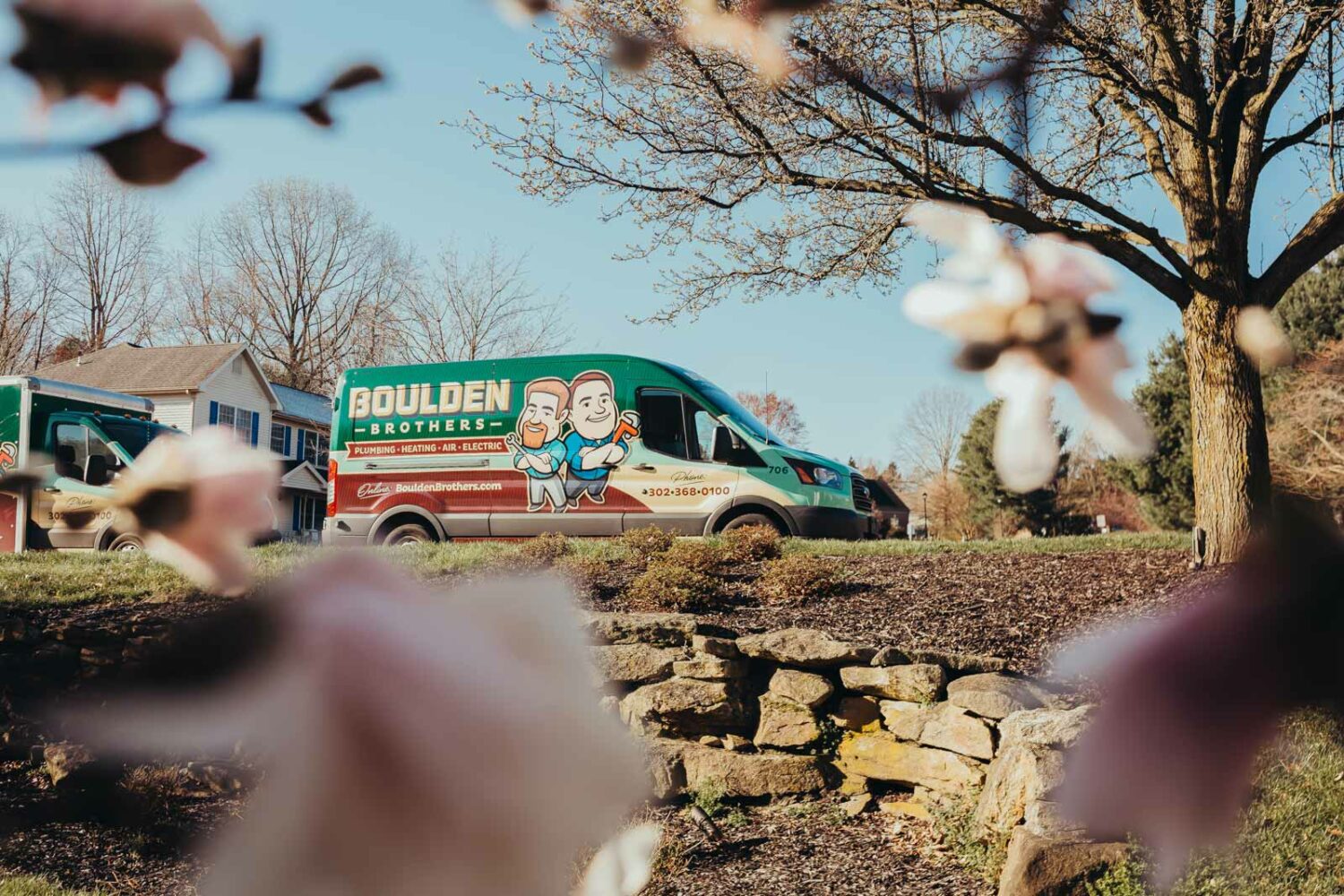 Get Bouldenized – Trust Boulden Brothers as your Drain Clearing Expert.
DIY drain clearing can seem tempting, but it's not worth the risk. Store-bought chemical cleaners may dissolve a clog immediately; however, they also erode and weaken your pipes – leading to costly repairs down the line. Play it safe by seeking professional help instead!
Invest in the long-term health of your plumbing system by hiring Boulden Brothers Plumbing, Newark's trusted drain-clearing experts. We employ safe and effective methods to unclog drains while minimizing damage to pipes – ultimately helping you maintain a healthy home for years to come! Book an appointment today and start protecting what matters most with annual drain maintenance.